On April 22, 2004 Corporal
Pat Tillman
was killed in Afghanistan. He was the all American story, a NFL football player who turned down a contract for over $3 million to enlist in the Army in order to fight for his country after the September 11th attacks.
He was posthumously awarded the silver star and promoted to Corporal.
Details of his heroism were published and recounted. At the time, I was going to school at Arizona State University (ASU) and Tillman's death was a huge story. In 1994, he was a linebacker for ASU, and the University decided to honor his legacy (make his story theirs) and they created Tillman scholars and Pat's Run with the help of the
Pat Tillman Foundation
.
However, there was a problem. The story of Pat Tillman death was a lie. He had been killed by "friendly fire" and the
Army had covered it up.
ASU and many others were determined to maintain the hero narrative, but a professor of mine, John Jota Leanos, created a public art exhibit that challenged the established narrative and attempted to change the meaning behind the much used picture of Pat Tillman.
He put these posters up on campus and around town.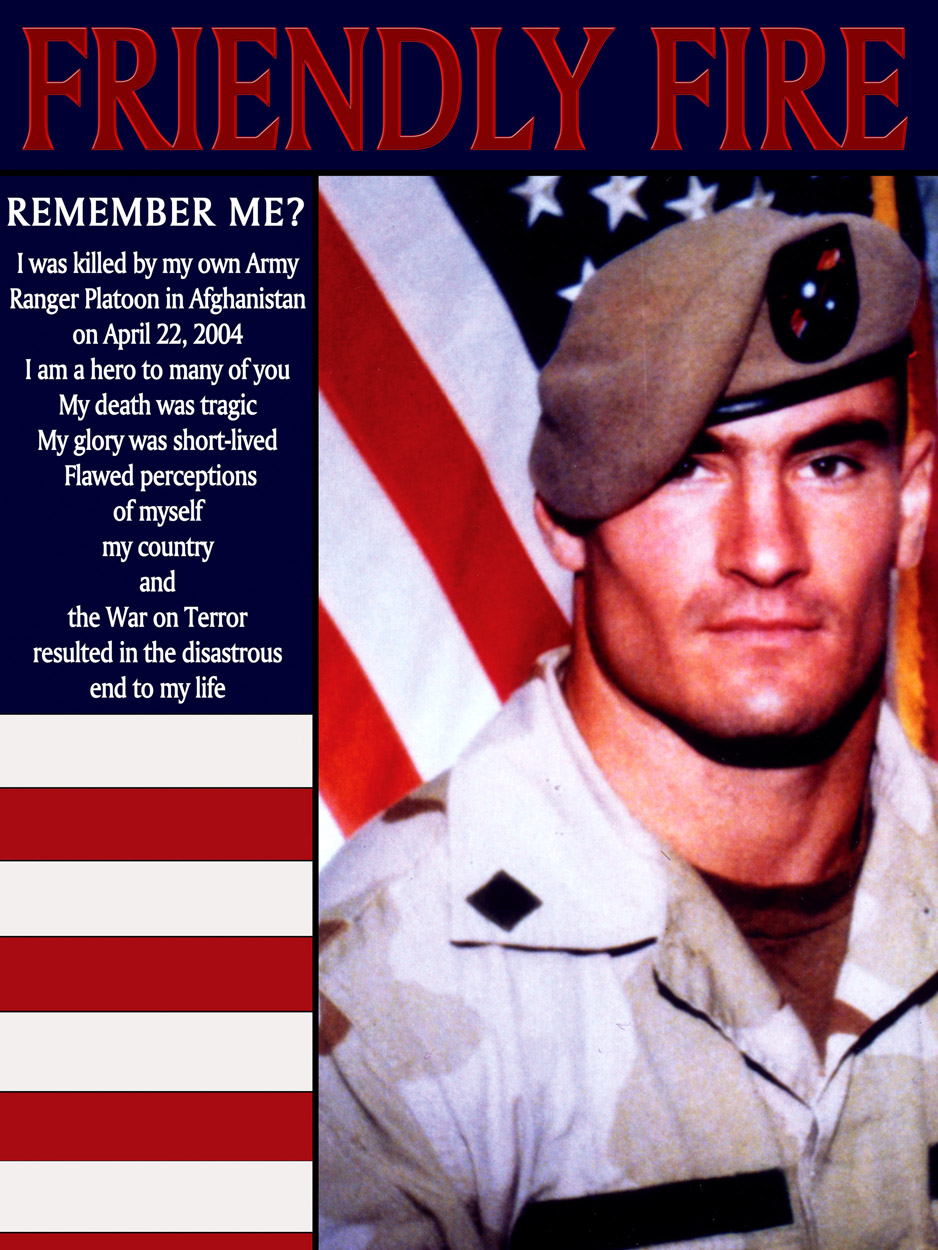 Here are some of the reactions to the poster:
"I don't understand morally how people can USE someone else's image and death for political purposes without any regard for their family? It's sickening.
...

This guy should be sued for defaming Tillman's memory!
...
Free speech doesn't mean that you have a blank check to LIE.
...
I'm attempting to get as many people as I can to instigate some sort of recourse against this immoral professor. Don't give up. Ranger Tillman deserves our efforts!
"
http://www.blackfive.net/main/2004/10/needs_a_chops_b.html#tp
"However, if this does not work he should be hunted down (any volunteers?) and some one should KILL THE FUCK out of him. His boss should be ass-raped like he was in a Federal Ass pounding prison.
This should help others decide to think before they open their cum dumpster/ cock holsters and spew filth.
...
I hope this Cock-Jockey gets sued so hard that his grandchildren will still be footing the bill. I am going to sit down tonight and come up with a diatribe for this cornhole that will drop jaws.
...
can you say a la raza fuckstick, this guy is a tonk or a wanna be tonk preaching the la raza bullshit of atzlan, you can bet he is supporting groups like brown berets de atzlan who are a bunch of wana be tonks and tonks who think this is there mythical homeland of atzlan and that the evil US stole it and they want to reclaim it by any means necessary"
http://www.armyranger.com/bb/viewtopic.php?p=82632
Prof Leanos received hundreds of emails including threats and the University decided to launch an investigation on him.
According to the school paper,
The State Press
, "ASU is conducting an "administrative review" to "explore whether anyone else at ASU was involved in what appears to be a blatant attempt to trade on the celebrity and patriotism of one of ASU's most honored and respected graduates," according to the letter."
In response to the controversy, ASU put on some forums about Academic Freedom. Prof Leanos spoke at one of the meetings.
"My latest artwork concerns many issues, but I want to highlight three themes that the work brings into question:
i. the social construction of war heroes
ii. the branding and marketing of soldier images in order to glorify and promote war
iii. the canonization of war heroes at the cost of truth
... This is serious business. At the same time, the death of Pat Tillman and the framing of his image as an untouchable American hero raises critical questions about militarism, truth and America's declare infinite War on Terror, questions that in a democracy we should not be afraid to ask." (
http://www.leanos.net/Tillmantext.htm)
As we discover this week in the readings, it is not so much the image, but the text that goes with the image that creates meaning.
I think an overall question we could think about is, who controls meaning?
What are the unquestioned stories and images we live within?
What happens when someone tries to tell an "unsanctioned" version of a societal story or myth and how does this connect to hegemony and ideology?
Why did people react the way they did?
How might Leanos' narrative be seen as a castration?
Look at the first image, which is being used "correctly."
Who all had a stake in the story of Pat Tillman as a war hero?
Was his image turned into a commodity, if so in what way?
How are the images attempting to interpolate the viewer?
Next is a brief summary of this week's readings.
Ferdinand de Saussure
According to John Storey (2009), "Structuralists argue that language organizes and constructs our sense of reality" (p. 112). Meaning is produced in the establishment of difference, but it is not complete until it is spoken. "The way we conceptualize the world is ultimately dependent on the language we speak" (p. 113). Therefore grammar or the structures that underlay text make meanings possible. "The task of structuralism, therefore, is to make explicit the rules and conventions (the structure) which govern the production of meaning" (p. 114).
Saussure broke down language into elements. (a) "The linguistic sign unites, not a thing and a name, but a concept and a sound-image (Social Theory p. 152). (b) "The word symbol, has been used to designate the linguistic sign, or more specifically, what is here call the signifier." However, he explains that the connection between "the signifier and the signified is arbitrary" (p. 154). There is nothing about the word tree or arbor that automatically associates it with the actual object. These words or sound-images are artifacts of the English language not of the object for which they signify.
Sassure states, "if words stood for pre-existing concepts, they would all have exact equivalents in meaning from one language to the next; but this is not true" (p. 159). The Spanish word for tree is el arbol, L'arbre in French,or
Дерево
in Russian. One universal aspect he says we have to take into account is time. "If we consider the community of speakers without considering time, we would not see the effect of the social forces that influence language…Language is no longer free, for time will allow the social forces at work on it to carry out their effects" (p. 156). As an actor, time became an important factor when I was working on Shakespearean roles. How a word was used in his time was different than our modern usage. Take the word Bedazzle which the
Oxford English Dictionary
traces back to Shakespeare "
a1616

Shakespeare

Taming of Shrew (1623)

iv.

vi. 47
That haue bin so bedazled with the sunne." These days it means "The art of taking ordinary things and making them EXTRAORDINARY by adding sparkles, rhinestones, glitter, stars, beads, etc. For some it is a way of life" (
Urban Dictionary
). Sassure argues that the only usage of a word that should be considered is its current understanding. "No society, in fact, knows or has ever known language other than as a product inherited from preceding generation, and on to be accepted as such. That is why the question of the origin of speech is not so important as it is generally assumed to be. The question is not even worth asking, the only real object of linguistics is the normal, regular life of an existing idiom" (p. 155). No matter how much research a Shakespearean actor does, when they say the word bedazzle the audience will connect the sound-image to its most current concept, because it is all they know.
Now for a musical break.

"Mythologiques," his four-volume work about the structure of native mythology in the Americas, attempts nothing less than an interpretation of the world of culture and custom, shaped by analysis of several hundred myths of little-known tribes and traditions. -
New York Times
Levi-Stuss argues that myths have patterns that can be deciphered. "The anthropologist's task is to discover the underlying 'grammar': the rules and regulations that make it possible for myths to be meaningful"(Storey, p. 115). He saw them as creating binary structures which divide the world into categories. "Myths are stories we tell ourselves as a culture in order to banish contradictions and make the world understandable and therefore habitable; they attempt to put us at peace with ourselves and our existence" (p. 115). Unlike words which are bound by time myths are timeless, they explain "the present and the past as well as the future" (Social Theory, p. 315). Myths also cross cultures. "Myth is still felt as a myth by any reader in the world. Its substance does not lie in its style, its original music, or its syntax, but in the story which it tells" (p. 315). Levi-Struss broke myths down in order to reveal the common elements of their stories.
Roland Barthes
"His guiding principle is always to interrogate 'the falsely obvious' (11), to make explicit what too often remains implicit in the texts and practices of popular culture….what-goes-without-saying" (Storey, p. 118). Barthes connects myth to ideology that is "understood as a body of ideas and practices, which by actively promoting the values and interests of dominant groups in society, defend the prevailing structures of power" (p. 119). He identifies a second level of signification beyond the signified and the signifier, connotation. The signifier tree creates a sign the image of a tree, which become a signifier on the second level, "That boy is as tall as a tree." It is on this level where myth is produced. "Barthes suggests, 'myths has…a double function: it points out and it notifies, it makes us understand something and it imposes it on us' (p. 121). We are interpolated by myths as we are hailed by them.
Barthes explains that the meaning of an image is determined by the text or stories surrounding it. "Image does not illustrate text, it is the text which amplifies the connotative potential of the image…the text produces (invents) an entirely new signified which is retroactively projected into the image, so much so as to appear denoted there...Without the addition of a linguistic text the meaning of the image is very difficult to pin down" (p. 123). If you grew up in America, can you think of a Cherry Tree without recalling the story of Honest Abe? Myths are ahistorical and simplistic. "It organizes a world which is without contradictions because it is without depth, a world wide open and wallowing in the evident, it establishes a blissful clarity; things appear to mean something by themselves" (p. 122).
The video below expands on his ideas and uses same example as Storey, Barthes' analysis of the cover of a French magazine Paris Match (p. 119).
Finally Barthes breaks down language as "a collective contract which one must accept in its entirety if one wishes to communicate" (Social Theory, p. 318). However, language can not exist without speech and speech without language. You have the written word, normative usage, and how the individual speaks. When I was a playwright, the trick was composing dialogue that mimicked everyday speech. People don't speak grammatically. But people do follow conventions and dialects. You can tell what group or where someone comes from based on how they talk.
For an additional reading Barthes also demonstrates his theory in
The Rhetoric of the Image.